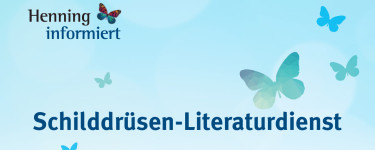 Thyroid-Lit. 50938
AZIZI, F. et al.


Treatment of subclinical Hyperthyroidism in the Elderly: Comparison of radioiodine and long-term methimazole treatment.
Thyroid-Lit. 50939
MEMEH, K. et al.


Thyroidektomy for euthyroid patients with Hashimoto thyroiditis and persisting symptoms: A cost-effectiveness analysis.
Thyroid-Lit. 50940
PITT, S.C. et al.


Patients' reaction to diagnosis with thyroid cancer or an indeterminate thyroid nodule.
Thyroid-Lit. 50941
KÖHRLE, J.


Selenium in endocrinology – selenoprotein-related diseases, population studies, and epidemiological evidence.
Thyroid-Lit. 50942
NICOLAISEN, P. et al.


Consequences of hyperthyroidism and its treatment for bone microarchitecture assessed by high-resolution peripheral quantitative computed tomography.
Thyroid-Lit. 50943
TOLOZA, F.J.K. et al.


Knowledge, attitudes, beliefs, and treatment burden related to the use of levothyroxine in hypothyroid pregnant women in the United States.
Thyroid-Lit. 50944
CESAREO, R. et al.


Laser ablation versus radiofrequency ablation for thyroid nodules: 12-month results of a randomized trial (LARA II study).
Thyroid-Lit. 50945
PLANCK, T. et al.


Liothyronine use in hypothyroidism and its effects on cancer and mortality.
Thyroid-Lit. 50946
VERBURG, F.A. et al.


Questions and controversies in the clinical application of tyrosine kinase inhibitors to treat patients with radioiodine-refractory differentiated thyroid carcinoma: expert perspectives.
Thyroid-Lit. 50947
NAGY, E.V. et al.


New formulations of levothyroxine in the treatment of hypothyroidism: trick or treat?
Thyroid-Lit. 50948
SCHAFFNER, M. et al.


Benefits and harms of a prevention program for iodine deficiency disorders: predictions of the decision-analytic EUthyroid model.
Thyroid-Lit. 50949
KITAHARA, C.M. et al.


Maternal health, in-utero, and perinatal exposures and risk of thyroid cancer in offspring: a Nordic population-based nested case-control study.
Letzte Aktualisierung: 05.10.2021